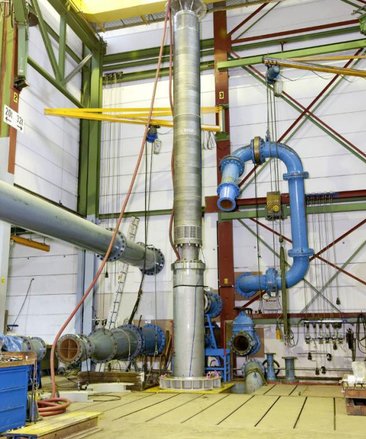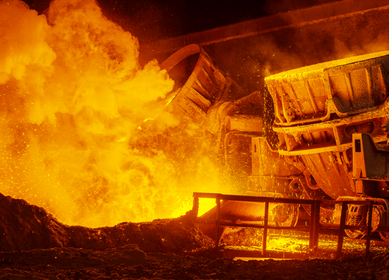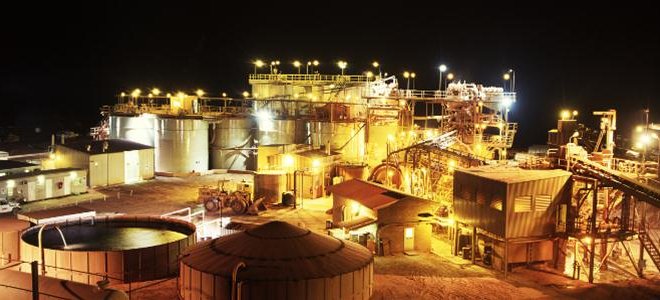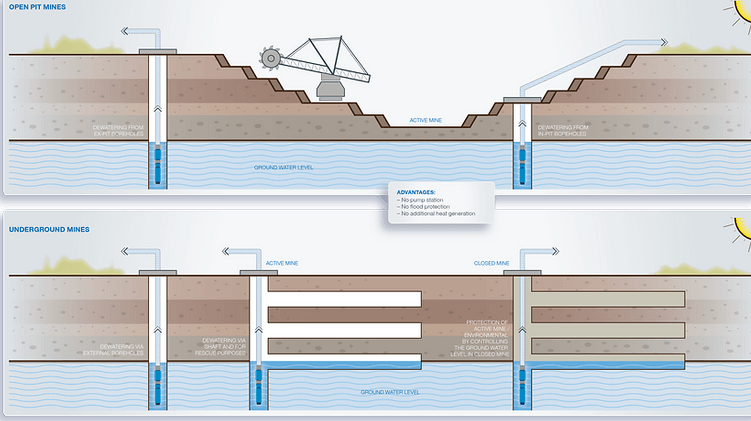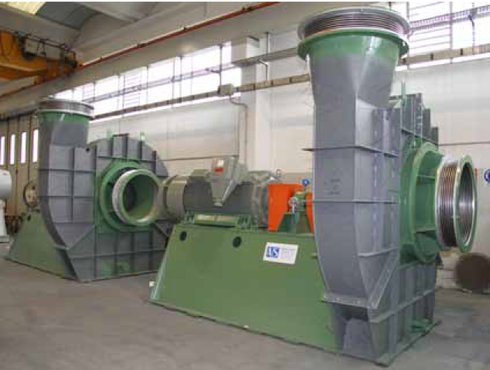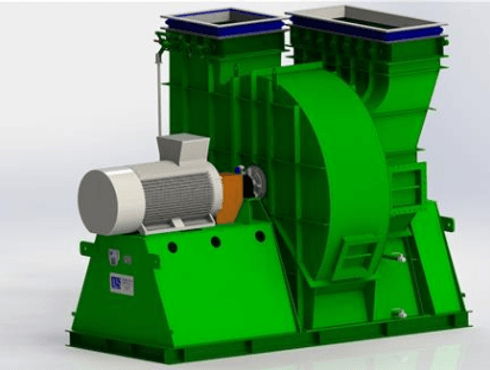 Slurry pumps for the mining industry
| | |
| --- | --- |
| Location | UK |
| Client | British Lead |
| Fan type / Arrangement | TSAN 192/8515w |
| Quantity | 1 |
| Flow Rate(m3/h) | 113.533 |
| Pressure (Pa) | 4.8 |
| Temperature (°C) | 100 |
| Rotational Speed (rpm) | 1015 |
| Installed Power (kW) | 315 |
ANDRITZ supplies submersible motor pumps and submersible motors for industrial applications and processes in the mining sector.
Pumps for the mining industry
One of the most important requirements for trouble-free extraction operations is pumping the accumulated mine water out of the working area. Mine operators all over the world rely on single suction and double suction submersible motor pumps from ANDRITZ to carry out this important task. Thousands of our submersible pumps have been installed in mines around the world, working under severest conditions, including the largest submersible dewatering pumps in the world.
There are few more demanding environments than in-pit or underground mines, so it is important to keep your operations running smoothly. From slurries to clear water, you need tough, durable pumps that you can rely on in the long term.
| | |
| --- | --- |
| Location | NETHERLANDS |
| Year | 2017 |
| Fan type / Arrangement | TS 170/8 |
| Quantity | 3 |
| Flow Rate (m3/h) | 120.150 |
| Pressure (mmwg) | 887 |
| Temperature (°C) | 55 |
| Rotational Speed (rpm) | 1490 |
| Installed Power (kW) | 400 |
| Applicable Code and Stadards | Client Specs. |
With water control being the most common concern in the mining industry, we have a range of specialist pumps to ensure your extraction process is reliable and controlled. Waste transportation is also top of the list, and our
SlurryPro slurry pumps
are designed specifically for this purpose.
Our experience working with the mining industry spans four continents. We operate worldwide, providing centrifugal slurry pumps for a multitude of uses.
Reduce Downtime and Maintenance
You can rely on us to supply pumps of the highest quality. By providing a product you can rely on, we can help reduce your maintenance costs. What's more, we pride ourselves on providing the fastest response time, reducing your downtime so your business can keep moving.
we Recomend Slurrypro: centrifugal slurry pumps of extremely robust design, with high tolerances and excellent resistance to abrasion.
Fan for the mining industry
Industry for the production of iron, steel and foundries.High efficiency fans:
- Combustion air fans, ejectors, extraction gas fans, EAF, high pressure boosters
- extended range of flow rate and pressure
- multi-stage blowers or turbofan for high pressure solutions
- designed, manufactured and tested in accordance with international codes and standards
- coupled to high efficiency electric motors and / or steam turbines
- customized with a wide range of accessories according to customer requirements
Field: Mining
Application: Acid mine water PH 2,5
Quantity: 7 Unit
Type: HDM 6737/15 + 6H1178/2400/4HDM 6737/12 + 6H1178/2400/4
Duty: 1500 m³/h, 430 m / 330 m
Materials: Duplex steel 1.4517GX2CrNiMoCuN25-6-3-3
Power: 2400 kW
Voltage: 6600 Volt
Speed: 1485 rpm